Samsung Pay with Capital Bank MasterCard® is here!
Use Samsung Pay with your MasterCard for a simple and highly secure way to pay with the latest Samsung devices. You can use your latest compatible Samsung device almost anywhere you shop -- from your favorite clothing store to your local coffee shop.
---
Earn even more when you use Samsung Pay

You'll earn all your same rewards that come with your card, plus you'll get points for every purchase made in Samsung Pay, which you can use toward gift cards, products, and more. The more you use Samsung Pay, the more you get.

Shop Securely, Pay Privately

When you use Samsung Pay, every transaction is authenticated by your fingerprint, iris or PIN number, and a random token is used instead of your actual card details, so your information stays safe. Plus, you'll also get added protection against identity theft from Zero Liability coverage that already comes with your Capital Bank MasterCard®.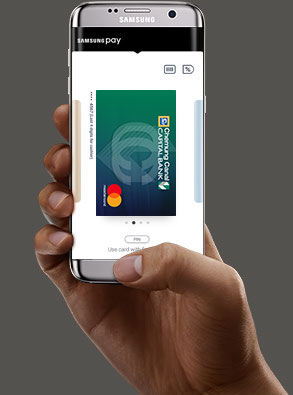 All your cards in one place
Once you launch the app, you can securely load all of your Capital Bank MasterCard debit and business debit & credit cards. You can also add your membership, rewards and gift cards right to your phone so you always have them when you need them. Click here for a list of compatible devices.
Samsung Pay is only available with select cards, carriers, and Samsung devices.
---
Frequently Asked Questions
What devices are compatible with Samsung Pay?
Samsung Galaxy S6 or higher
Galaxy Note5
What Capital Bank debit or credit cards can be used with Samsung Pay?
Consumer Debit MasterCard
World Debit MasterCard
Business Debit or Credit cards
VISA Platinum Credit Card
Does Capital Bank charge me to use Samsung Pay? No, we do not charge a fee to use Samsung Pay.
What happens if I lose my device? During business hours, Capital Bank can deactivate or suspend your token by calling 800-836-3711. After business hours, you can call 844-646-5465 for assistance. To report a lost or stolen card after hours, please call 800-472-3272.
Do I still get uChoose Rewards® points? Yes, the base rate of points are applied normally. However, many in-store bonus points are not able to be applied because of the method of payment. Additionally, Samsung Pay has its own rewards program you can participate in.
---
©2017 Mastercard. All rights reserved. All third party trademarks and logos shall belong to their respective owners.
Samsung, Samsung Pay, Galaxy s7 and Samsung knox are trademarks or registered trademarks of Samsung electronics co., Ltd. Other company and product names mentioned may be trademarks of their respective owners. Screen images are simulated; actual appearance may vary. Samsung Pay is available on select Samsung devices.